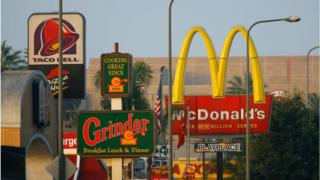 US economic growth slowed down in the third quarter, but beat some economists' expectations.
An official estimate put GDP growth at 1.9% during the quarter, ahead of the 1.6% predicted by some economists.
A slowdown in consumer spending, coupled with lower public sector spending, contributed to the slowdown.
There was a feeble growth in exports after a sharp contraction the previous quarter.
GDP was just below the 2% growth of the previous quarter.
In 2018, the US economy grew 3.4% in the third quarter.
US Treasury Secretary Steven Mnuchin said global growth is slowing and has had a modest impact on the US, adding the US economy remained strong with good capital inflows.
"There is no question that the global economy is slowing down and that has had some modest drag on the US economy," he said at an investment conference in the Saudi capital Riyadh.
Source link