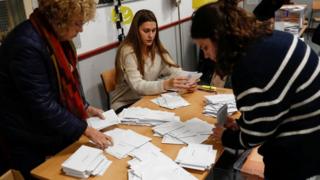 The governing Socialist Party in Spain looks set to win the most seats in the general election, but fall short of a majority, exit polls suggest.
The conservative Popular Party follows in second place, while the far-right Vox party appears to have doubled its vote share, said the poll by public broadcaster RTVE.
Right-wing parties have the most votes combined, though no majority.
Spain has not had a stable government since 2015.
This was the country's fourth election in as many years.
Voter turnout at 18:00 local time (17:00 GMT) was 56.8%, almost four points lower than the last general elections in April.
Spanish politics has become increasingly fragmented in recent years with the emergence of new parties.
Where do parties stand?
RTVE projects that the Socialists (PSOE) will win between 114 and 119 seats, while the left-wing Podemos, which is opening to forming a government with the Socialists, is expected to take between 30 and 34 seats.
Meanwhile, on the right, the Popular Party (PP) is projected to take between 85 and 90 seats, while Vox could take between 56 and 59 seats, RTVE says.
This would mean that both the PSOE and the PP could struggle to form a coalition government without involving smaller parties – as 176 seats are required for a majority in the 350-seat parliament.
Source link