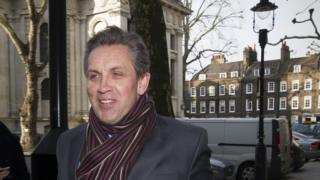 VAT should be increased to 22% and business rates halved in a bid to save the High Street, former Sainsbury's boss Justin King has said.
This would help retailers battling with online rivals who do not face the same tax burden, he said.
He told the BBC's Today programme it was unfair that only bricks-and-mortar retailers paid business rates.
"The services that those business rates pay for are used by online retailers," Mr King said.
"They drive on the roads that are maintained by them, the brown cardboard boxes they deliver are collected by dustmen or taken to tips paid for by those business rates."
No price change
He said it would not change prices for consumers buying from High Street shops.
"All taxes are paid by consumers," he said.
Business rates are a tax on property used for business purposes, and calculated based on a property's estimated value on the open market.
Rates are revaluated every three years.
"Retailers in our High Streets up and down the country pay business rates, that's passed on to consumers in pricing.
"So if they see a reduction in their business rates but VAT has gone up – and that is of equivalent value – you won't see any price moves at all."
Struggling sector
Mr King's plea follows a call from Parliament's Treasury Committee earlier this week for the government to seek alternatives to the current system.
"It's abundantly clear that the current business rates system is broken," said MP Alison McGovern, who is leading the inquiry. "The tax represents an increasing burden on businesses, particularly those with a physical High Street presence struggling to remain competitive."
The committee has asked the government why business rates have outpaced inflation since 1990, which is when they were introduced in their current form.
Last month, the British Retail Consortium (BRC) estimated that 85,000 jobs in the retail sector had been lost in the past year.
The BRC made the calculation after finding that the number of retail employees in the July-to-September quarter had fallen by 2.8% from a year earlier, the 15th consecutive quarter of year-on-year decline.
The UK's High Streets have seen a wave of closures over the past few years, as retailers have either gone out of business or shifted away from physical stores. Clothing retailers Karen Millen and Coast were among the recent chains to shut.
In July, the proportion of all shops that are empty reached 10.3%, the highest rate since January 2015, according to a BRC and Springboard survey.
Source link