The players are in the tunnel! It's very, very white in there. The floor is white. The ceiling is white. The walls are white. England are dressed all in white.
England continue to deal with a deluge of praise, thanks and general appreciation as kick-off approaches:
Gareth Southgate has a chat, firstly about Kosovo and the welcome England have experienced there:



Incredible. We had a bit of a heads-up on that, but yeah, it's a massive occasion for Kosovo and we've got to be prepared for that on the pitch. They didn't play so well at the weekend so there'll be a reaction from that, and obviously we're a big scalp.
He talks about the game as "a chance to have a bit of a look at a couple of players we need to have a closer look at before the summer", with Nick Pope and Callum Hudson-Odoi on trial today. But he says he also "wanted to get a balance today of some consistency from what we did in the last game", hence keeping the same full-backs.
I think it's fair to say that this is not the reception England are used to receiving when they play away: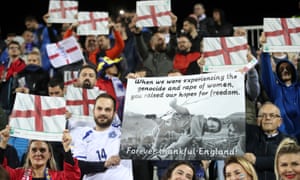 The Kosovo manager, Bernard Challandes, seems quite impressed by this England team:



We know exactly against who we will play and we have seen in the last game and all this campaign, England has the best potential offensive in the world now. For me, it's the first favourite for the next European Championship, with this offensive potential. It's an advantage for us to play here. There's a big, big enthusiasm behind the team. People are very proud of the team. Unfortunately we have only 13,000 spectators, but I think the players of Kosovo have a good feeling with the support, and that can help, particularly today. We never lost here, but we never played against such a team as England also.
A peek inside the Kosovo dressing room suggests that they are partial to the occasional biscuit: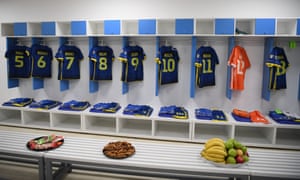 In case you've already forgotten September's Wembley goalfest between these sides, here's a reminder:
Kosovo's line-up: Muric, Hadergjonaj, Aliti, Rashica, Celina, Rrahmani, V Berisha, Vojvoda, Kololli, Dresevic, Nuhiu.
England's team is in, and it looks like this: Pope, Alexander-Arnold, Maguire, Mings, Chilwell, Winks, Rice, Oxlade-Chamberlain, Hudson-Odoi, Sterling, Kane.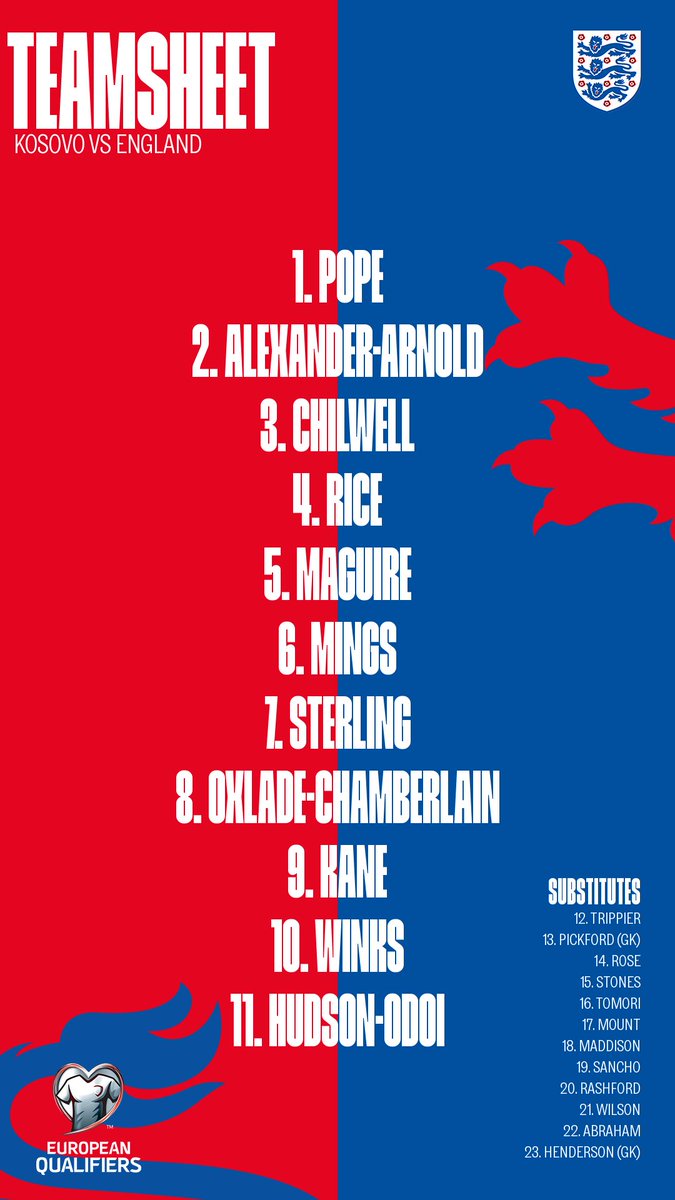 Hello world!
And so, for Euro 2020 Qualifying Group A, it ends. The group's final two games kick off at 5pm GMT, but already we know that Kosovo will finish in third place, the Czech Republic in second and England first, with the only uncertainty being whether Bulgaria, who host the Czechs in Sofia, can get the point they need to climb off the foot of the table at Montenegro's expense. But thanks to Uefa's merry if mightily confusing bonus extra qualifying play-off bonanza stage both Bulgaria and Kosovo (because of their performances in the Nations League) will have another chance, whatever happens to them today, and Montenegro will thus be the only team from the group to actually be eliminated at the end of it, even if they don't finish bottom of it.
So, that's cleared that up.
Thus nothing of great significance rests on this game. But Gareth Southgate was right to say in the build-up that "seeding could be crucial", and England need to win to guarantee that they will be in the top group of seeds for the Euro 2020 final tournament draw (5pm GMT on Saturday 30 November, diary fans), which would probably make their progress through the tournament a great deal smoother, and as an added bonus would guarantee that they play all their group games at Wembley.
Happily, Kosovo is one of the rare corners of Europe that does not yet dislike the British, and something akin to a carnival atmosphere is expected at the Stadiumi Fadil Vokrri in Pristina (Fadil Vokrri was a fine footballer and later president of the Kosovan FA, who died last year aged 57). Here's a Nick Ames story on that special relationship:
And here's David Hytner's big match team news update and preview thingy:
Source link