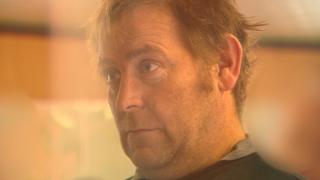 The main suspect in the investigation into the kidnap and torture of a Northern Ireland businessman has died during a police raid in England.
Cyril McGuinness, 54, is thought to have suffered a heart attack as police searched his Derbyshire home on Friday.
That search was part of a joint police operation across the UK and Ireland in which almost 20 properties were raided.
Quinn Industrial Holdings (QIH) executive Kevin Lunney was beaten by a gang in on 17 September.
Derbyshire Constabulary said its officers carried out the search of McGuinness's home in Buxton on behalf of the Police Service of Northern Ireland (PSNI).
"Shortly after that warrant was carried out at 07:30 GMT, a 54-year-old man inside the property was taken ill," added Derbyshire Constabulary.
The force said officers administered first aid and called paramedics but the man died.
Who was Cyril McGuinness?
A convicted smuggler, Cyril McGuinness was known as "Dublin Jimmy" and had an extensive criminal record.
The 54-year-old from Derrylin in County Fermanagh was exposed in an investigation by BBC Northern Ireland's Spotlight programme in 2004 into the illegal transport of waste.
In 2007, he received a suspended sentence after he admitted 22 charges relating to the illegal transport of waste from the Republic of Ireland, through Northern Ireland to Scotland.
In 2011, he was extradited to Belgium to serve a seven-year prison term for stealing lorries and cranes that were brought to Ireland.
He was described in a European extradition warrant in 2008 as an "active member of an Irish criminal organisation".
In April that year, he was stopped by Serbian police near the Croatian border – when they realised he was subject to a Europe-wide warrant he was extradited to Bruges.
He faced charges in Bruges but left the country after being granted bail and was convicted in his absence.
The Independent Office for Police Conduct, which handles complaints made against police forces in England and Wales, is investigating McGuinness's death.
"We have sent investigators to the property and to the police post incident procedure to begin gathering information," it said.
Phones, computers and documents were seized during the search.
As part of the police operation on Friday, the PSNI carried out five searches in Derrylin.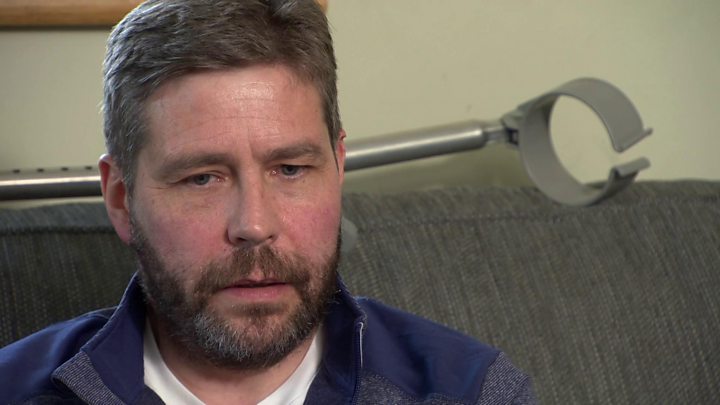 The Garda Síochána (Irish police force) said 100 of its officers were involved in searching five locations in County Cavan, three in County Longford and four in Dublin. 
They said the locations were a mixture of houses and commercial premises.
McGuinness had been a target of the police on both sides of the Irish border for years and had more than 50 convictions.
He was the main suspect in the kidnap of and violent attack on 50-year-old Mr Lunney, who was abducted as he was driving home from work in Kinawley in County Fermanagh.
Mr Lunney, a father of six, had his leg broken, was slashed with a knife and doused with bleach in a two-and-a-half hour ordeal.
He had the letters QIH cut into his chest with a knife and told the BBC's Spotlight this week that he feared that he would never see his wife and children again.
After the attack, Mr Lunney was dumped on a road in County Cavan 22 miles (35km) from where he was abducted.
He was found by a member of the public.
'Searches represent major response by police'
Analysis by Julian O'Neill, BBC News NI home affairs correspondent
Police on both sides of the Irish border are under pressure to get results after a long-running series of threats and other incidents.
The campaign against QIH and senior staff has spanned several years.
There have been scores of incidents but to date no-one has been charged.
The abduction of Kevin Lunney represented a significant ratcheting-up of things.
Police have given priority to the investigation and the scale of the co-ordinated searches appears to represent a major response.
The PSNI's Det Ch Insp Julie Mullan said its detectives would "continue to work closely" with the Garda Síochána and Derbyshire Constabulary to try to "bring the perpetrators to justice".
In the past week, signs near the headquarters of QIH in Derrylin attacking the directors have been removed and the PSNI has increased its patrols in the area.
The companies comprising QIH were formerly owned by Sean Quinn, who was once Ireland's richest man.
When his business empire collapsed, businessmen, including his former associates, bought the companies.
Mr Lunney, who worked with Mr Quinn for many years and remained loyal after the County Fermanagh tycoon's bankruptcy, was reinstated as a director and Mr Quinn was employed as a consultant.
Mr Quinn left that role in 2016, later saying he was forced out and his family had been "stabbed in the back".
He has repeatedly condemned attacks on property belonging to the owners of his former businesses.
The Irish News reported on Friday that the directors of QIH have rejected an offer to meet the Quinn family.
It said Mr Quinn's son Sean Quinn Jr made the offer in a statement to the BBC's Spotlight.
Source link