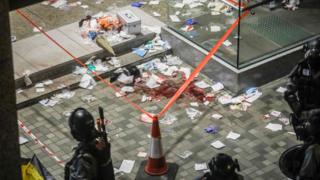 At least four people have been injured in a knife attack at the site of a pro-democracy protest in Hong Kong.
The attack happened at the Cityplaza mall in the Tai Koo district on Hong Kong Island, local media reports said.
One of the injured had his ear partially bitten off by an as-yet unidentified male attacker, who was subdued by passersby in the mall.
Cityplaza was the scene of one of the protests on Sunday linked to an ongoing pro-democracy campaign in Hong Kong.
The campaign began in March with demonstrations against a bill that would have allowed extradition from Hong Kong to mainland China but evolved into broader demands.
Local media reports suggested the attacker targeted pro-democracy protesters who had gathered earlier at the Cityplaza mall. The attack came after he had argued with a couple. He injured at least four people before being beaten up by an angry crowd and arrested, the reports said.
Among those injured was a local councillor, Andrew Chiu Ka-yin, whose ear was severed. Images from the scene appeared to show the attacker lunging at Mr Chiu and biting his ear.
The South China Morning Post quoted another victim, a woman, as saying the suspect took out a knife after arguing with her sister and her husband, who were also injured. The Hong Kong Free Press reported that that attacker was a Mandarin-speaking pro-Beijing supporter.
Hong Kong's wave of pro-democracy protests continued this weekend, with police firing tear gas on Saturday into crowds of demonstrators who had gathered days after a high profile activist, Joshua Wong, was banned from standing in local elections.
Police clashed violently with protesters again on Sunday, in the eastern suburb of Taikoo Shing, home to the Cityplaza where the stabbing occurred.
In the five months since they began, the protests have evolved into a call for universal suffrage for the territory – the right of almost all adults to vote in elections. With no end in sight, China's leaders signalled this week that they were preparing to change how the mainland administered Hong Kong.
Shen Chunyao, the director of the Hong Kong, Macau and Basic Law Commission, told reporters that officials were looking at ways to "perfect" how Hong Kong's chief executive was appointed and removed. He did not elaborate on what exactly might change.
Last month, the leader of one of Hong Kong's largest pro-democracy groups was taken to hospital after being attacked, apparently with hammers. Photographs on social media showed Jimmy Sham of the Civil Human Rights Front lying in the street, covered in blood.
From hospital, the activist said he "remained committed to the ideal of peaceful non-violence".
Source link