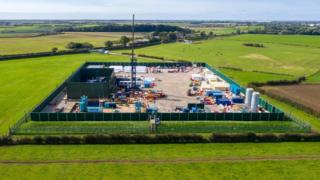 The government has called a halt to shale gas extraction – or fracking – in England amid fears about earthquakes.
The indefinite suspension comes after a report by the Oil and Gas Authority (OGA) said it was not possible to predict the probability or size of tremors caused by the practice.
Business Secretary Andrea Leadsom said it may be temporary – imposed "until and unless" extraction is proved safe.
Labour, Lib Dems and the Green Party want a permanent ban.
Fracking was suspended at the end of August after activity by Cuadrilla Resources – the only company licensed to carry out the process – at its Preston New Road site in Lancashire caused a magnitude 2.9 earthquake.
The Department for Business, Energy and Industrial Strategy said that, after the OGA concluded that further seismic activity could not be ruled out, "further consents for fracking will not be granted" unless the industry "can reliably predict and control tremors" linked to the process.
However, it has stopped short of an outright ban.
Asked on BBC Radio 4's Today programme why that was, Mrs Leadsom said shale gas is a "huge opportunity" for the UK.
"We will follow the science and it is quite clear that we can't be certain. The science isn't accurate enough to be able to assess the fault lines, the geological studies have been shown to be inaccurate. So therefore, unless and until we can be absolutely certain, we are imposing a moratorium," she said.
Opposition leader Jeremy Corbyn tweeted that the pause was an "election stunt" and that Labour would ban fracking permanently.
Former Conservative energy minister Sam Gyimah, who is now a Liberal Democrat, said Mr Johnson's "conversion to environmentalism" was "skin deep".
"It's interesting that just as we approach an election he has decided he is against fracking."
Asked whether the UK should explore methods of delivering fracking safely, Green Party co-leader Jonathan Bartley said fossil fuels "need to stay in the ground" and that the government must make an "absolute commitment" to end it altogether.
---
Analysis
By Katie Prescott, BBC business correspondent
Andrea Leadsom emphasises that this is not a ban – and the government is 'following the science'.
However, scientists say it's hard to see a time with our current technology that fracking in the UK wouldn't cause earthquakes
Professor Richard Davies from Newcastle University says: "The UK is crisscrossed with faults and it's difficult to avoid them because the current imaging techniques used by the industry do not yet provide enough resolution to detect many of them."
The big question for the businesses working in this sector is whether they are happy to spend any more money in this regulatory environment.
Do they think it's worth investing, in the hope that the "science" will one day find in their favour and the regulation could change?
Or will they decide that two moratoriums in 10 years is just too many, and that fracking has no future in the UK.
---
Friends of the Earth said legislation should be passed to make the fracking moratorium permanent.
"For nearly a decade local people across the country have fought a David and Goliath battle against this powerful industry," said chief executive Craig Bennett.
Charity CPRE said it had long called for fracking to be stopped and said the move would help the UK meet its target of net-zero carbon emissions by 2050.
Anti-fracking campaigner Barbara Richardson, who has protested at Preston New Road, said she was "cautiously optimistic", adding that local people were "worried" about the impact of fracking.
"They want this to go away, they want some respite from this, they've been fighting this for five-and-a-half years," she told BBC Breakfast.
Claire Stephenson from Frack Free Lancashire said campaigners were celebrating that the fracking industry in the UK is "finished", but added that protests will continue until an "outright ban" is in place.
Susan Holliday, chair of Preston New Action Group said: "We will only feel able to celebrate once Cuadrilla start work on decommissioning and the site is restored."
Why frack?
Fracking is a process in which liquid is pumped deep underground at high pressure to fracture shale rock and release gas or oil trapped within it.
Assessment by the British Geological Survey in 2013 suggested there were enough resources in the Bowland Shale across northern England to potentially provide up to 50 years of current gas demand.
But research published in August estimated there were only five to seven years' supply.
The UK's fracking industry, which has said the process could contribute significantly to future energy needs and create thousands of jobs, dismissed the report's findings.
Fierce opposition
Fracking must be halted for 18 hours if it causes a tremor measuring 0.5 magnitude or above.
The government announcement is the second time it has placed a moratorium on fracking.
The first suspension, which lasted a year, was in November 2011 during the Conservative-Liberal Democrat coalition government.
The fracking industry has faced fierce opposition from both communities and environmental groups.
Prime Minister Boris Johnson has in the past supported fracking, writing in the Daily Telegraph that the discovery of shale gas in the UK was "glorious news for humanity".
A recent report by the National Audit Office found the UK had spent at least £32.7m supporting fracking since 2011.
All fracking in Scotland has been suspended since 2013 and the SNP recently confirmed a policy of "no support" for the extraction method.
The Welsh Government has also opposed fracking for several years, with a "moratorium" in place since 2015, while there is a planning presumption against fracking in Northern Ireland.
The suspension in England will put pressure on Cuadrilla Resources which has so far invested £270m in the country's shale gas industry.
Cuadrilla Resources has 30 full-time workers but also employs a number of contractors.
A spokeswoman for Cuadrilla Resources declined to comment.
The BBC understands Cuadrilla and other fracking companies were not told of the government's decision in advance.
Ken Cronin, chief executive of UK Onshore Oil and Gas, which represents fracking companies, said: "Going forward, we are fully committed to working closely with the Oil and Gas Authority and other relevant regulators to demonstrate that we can operate safely and environmentally responsibly."
Source link