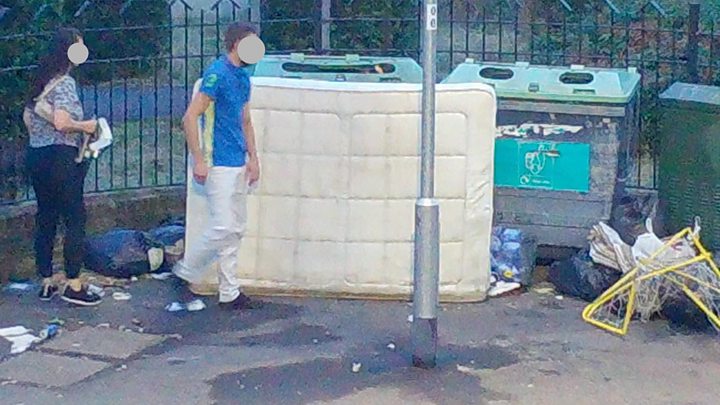 Councils in England dealt with more than one million incidents of fly-tipping last year, official figures show.
It was an 8% rise on the 998,000 in 2017-18, with nearly two thirds of incidents made up of household waste.
The most common places for the illegal dumping of waste were pavements and roads.
The Local Government Association (LGA) said fly-tipping cost taxpayers "more than £57m a year to clear up".
The figures suggest the number of fly-tipping incidents – 1,072,000 in 2018-19 – was the highest for a decade.
However, in notes accompanying the statistics the Department for Environment, Food and Rural Affairs (Defra) said councils had "changed the way they capture and report fly-tips over the past few years, so the changes over time should be interpreted with some care."
'Nothing seems to be done'
Maz Noakes is part of a group of litter picking volunteers called the Wombles of Willenhall.
The 69-year-old said the group regularly saw evidence of fly-tipping.
The wombles are supported by Walsall Council but Ms Noakes says its enforcement teams, the officials responsible for finding and prosecuting fly-tippers, "need to do more".
"Although they claim to be taking action… this isn't noticeable," she said.
"Over the years we have given them evidence of perpetrators," she added, "there have been many times we have gone through stinking bags of rubbish and found loads of information, but nothing ever seems to be done."
"People say that school kids need educating about litter, and although I wholeheartedly agree with this, they are not responsible for the used nappies, carrier bags of human excrement and bags of stinking food waste that we pick up regularly," she added.
Councillor Garry Perry, from Walsall Council, said the group's work was "amazing", but the authority could not always name and shame those reported for fly-tipping.
"This year we have issued 17 fixed penalty notices for fly-tipping," Mr Perry said, including 12 £400 fines and five £150 fines.
The council previously said it had spent £1.7m over five years cleaning up fly-tipped waste.
The official figures show a slight drop in fly-tipping incidents in 2018-19, with 4,265 cases compared with 4,267 the year before.
You may also like:
Councils carried out almost half a million enforcement actions in 2018-19, ranging from investigations to issuing fixed penalties and pursuing prosecutions.
The number of penalty notices – which can see people charged up to £400 – has continued to increase, up 11% to 76,000 last year.
In Camden there were 25,765 incidents, more than double the year before and equivalent to 98 incidents for every 1,000 people living in the London borough.
A spokeswoman said the rise was due to an app it had launched to make it easier for residents to report illegal dumping.
"Thanks to the increased reporting we have been able to take action on more cases," she said.
'Wall of shame'
In September, Coventry Council's head of environmental services, Craig Hickin, said twelve new cameras would be set up after locals in the areas worst affected by fly-tipping.
He said residents in those places were "loathe" to pass on information to the council.
"They fear for their safety and there is a degree of apathy as to what can be done about it," Mr Hickin said.
In London, Barking and Dagenham Council posts video clips of fly-tippers online on what it calls the "wall of shame".
A council spokesman said: "Every episode has led to at least one person being caught and fined."
"Residents have backed our campaign and we have had examples of a husband reporting his wife and a woman who handed herself in after being spotted by a family friend," he added.
A fly-tipping offence is committed when a person illegally dumps household, industrial, commercial or other waste without a licence.
Fly-tipping is punishable by a fine of up to £50,000 or 12 months imprisonment if an offender is convicted in a Magistrates' Court, but sentences can be more severe if dealt with by a Crown Court.
However, the LGA said its analysis had found nobody convicted of fly-tipping had received the maximum fine or prison sentence since the new guideline were introduced in 2014.
By law councils are responsible for dealing with smaller scale fly-tips on public land, while larger or hazardous incidents are dealt with by the Environment Agency.
Landlords are responsible for legally disposing of fly-tipped waste on private land.
The Country Land and Business Association (CLA), which represents rural businesses, farmers and landowners, say the local authority figures do not represent the "true scale" of fly-tipping, as they do not include figures for waste dumped on private land.
Sarah Hendry, from the CLA, said: "Our members are all too tired of not only cleaning up other people's rubbish but paying for the privilege of doing so."
She said on average it cost about £1,000 to clean up fly-tipping for a private landowner, with many businesses suffering "multiple incidents".
"This can quickly affect the bottom line dramatically," Ms Hendry added.
The government said it could not comment on the figures because of purdah restrictions due to the upcoming UK general election.
Source link