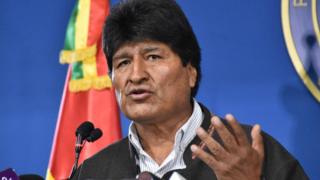 Bolivia's President Evo Morales has said he will call a new election after international monitors questioned the result of last month's race.
Speaking at a news conference, the long-standing leader also pledged to replace members of the country's election board.
The Organization of American States (OAS), which monitored the elections, called for the result to be annulled.
Mr Morales' announcement comes after weeks of anti-government protests.
The president, who was first elected in 2006, denies any wrongdoing and has ignored calls to resign.
He told reporters that he made the decision "to reduce all tension" and pacify Bolivia.
Members of the new electoral board will be chosen by the country's parliament, he added.
What did the OAS say?
In its preliminary report on Saturday, the OAS said it had found "clear manipulations" of Bolivia's voting system and it could not verify the result of the 20 October race.
The international body concluded it was unlikely that Mr Morales had won by the 10% margin required for a victory in the first round.
"The manipulations to the computer system are of such magnitude that they must be deeply investigated by the Bolivian State to get to the bottom of and assign responsibility in this serious case," it said.
Why has there been opposition to the election result?
Bolivia has been rattled by protests, strikes and road blocks since the night of the election.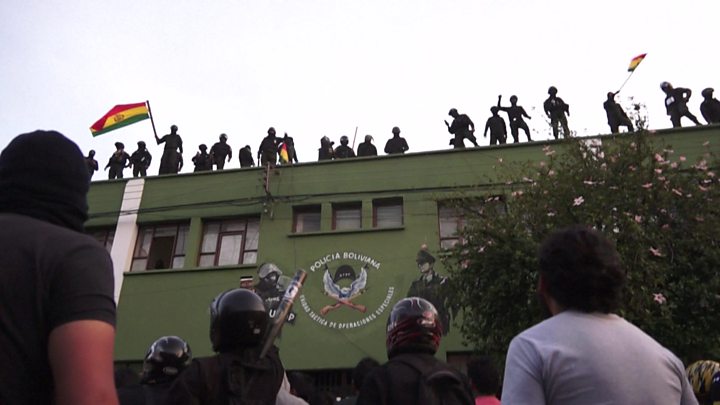 At least three people have died during clashes. The mayor of a small town was also attacked by protesters earlier this week, who dragged her through the streets barefoot, covered her in red paint and forcibly cut her hair.
Tensions first flared after the results count was inexplicably paused for 24 hours.
The final result gave Mr Morales slightly more than the 10% lead he needed to win outright, giving him a fourth consecutive term.
Carlos Mesa, the election's runner up, asked Bolivia's congress on Friday to pass an emergency bill to prepare for new elections.
A number of uniformed police officers also joined crowds of demonstrators in several major cities on Saturday – a significant escalation of protests.
Source link