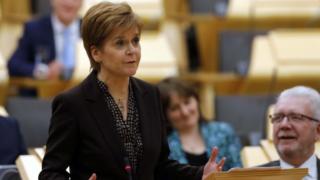 MSPs have backed calls for a new referendum on Scottish independence in a vote at Holyrood.
First Minister Nicola Sturgeon wants to hold a new poll later this year, and wants UK ministers to agree to this.
But Prime Minister Boris Johnson has rejected her call for a transfer of powers, saying the 2014 vote was a "once in a generation" event.
MSPs voted by 64 to 54 to agree that circumstances have changed since then, and that "a referendum should be held".
The vote is not binding on the UK government, and Scottish Secretary Alister Jack told BBC Scotland that the UK government's position was "not remotely" changed by it.
Ms Sturgeon is due to make a speech on Friday setting out the "next steps" in the "campaign to secure Scotland's future as an independent nation".
The Scottish government wants to hold a new referendum in the second half of 2020, pointing to Brexit as a "material change in circumstances".
Ms Sturgeon formally requested a transfer of powers – similar to that which underpinned the 2014 referendum – after the SNP won 48 of Scotland's 59 seats in December's general election.
Mr Johnson replied that he could "not agree to any request for a transfer of power that would lead to further independence referendums".
In Wednesday's debate, Ms Sturgeon said MSPs should "endorse a fundamental democratic principle – that this country has the right to choose its own future".
She put forward a motion for debate saying a referendum should be held, and calling on the UK government to agree to this happening "on a date and in a manner determined by the Scottish Parliament".
The SNP leader said Scotland being taken out of the EU despite a 62% Remain vote north of the border was an "affront to democracy", adding: "Having our future imposed on us by a UK government which is utterly contemptuous of our views simply isn't good enough."
She said there was an "overwhelming" democratic case for a new vote, and said the "anti-democratic position of the opposition parties" was because they were afraid of putting the question to the public.
This was backed by Scottish Green co-leader Patrick Harvie, who said the divergence between Scots voting to remain in the UK in 2014 and to remain in the EU in 2016 needed to be settled.
Scottish Secretary Alister Jack said he was "not surprised" by the vote, given the pro-independence majority at Holyrood, but said "the position remains the same".
He told BBC Scotland: "A generation, as was in their independence white paper, has not passed. We're leaving the EU on Friday and we need to focus on the common fisheries policy, our coastal communities, our trade deals, all the good things we can do rather than another year of referendums, rancour and division."
This is tricky ground for Nicola Sturgeon. She yearns for independence, as do her party members and the wider Yes movement.
But she is aware of the practical obstacles in the path, not least the refusal of the UK government to grant the power to hold a statutory referendum.
Yes, she could go to court to challenge that position – but would be unlikely to win. Yes, she could consider an unofficial referendum but fears it would be a gesture to be dismissed.
However, she needs to keep the independence movement motivated, particularly within her own party ranks. Hence, the speech planned for Friday at a party rally.
To repeat a point I have made more than once, Nicola Sturgeon does not want simply to hold a referendum. She wants to win one. A real one.
In the chamber, Scottish Conservative interim leader Jackson Carlaw said the whole debate was really being held for the benefit of independence campaigners, with Ms Sturgeon being "afraid to tell hard truths" to her supporters.
He said the first minister was pursuing an "obsession at the expense of the country's real and pressing priorities", saying the government should instead be focused on issues like education and crime.
Scottish Labour leader Richard Leonard said that "the people of Scotland don't want another independence referendum any time soon".
He said "nobody in this chamber really believes there will be a referendum this year", and said Ms Sturgeon was "using this parliament to speak to her own party, and she is not even telling them the truth".
Scottish Lib Dem leader Willie Rennie also said the debate was "for different factions of the SNP" rather than the country at large, arguing that "people are sick fed up" of constitutional division.