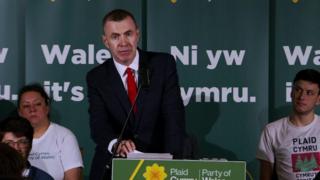 Plaid Cymru leader Adam Price says no party has a "higher ambition for Wales" when its general election campaign launched on Monday.
Mr Price told the launch in Menai Bridge, Anglesey, that Westminster policies had failed Wales.
Plaid wants to add to its tally of four MPs, with Ynys Mon a top target, and has not ruled out electoral pacts.
It wants another referendum on Brexit in which it would campaign for the UK to remain in the EU.
In September, Mr Price called for his party to go into a snap poll promising to cancel Brexit without the need for a further referendum, but party members voted to support another vote on membership unless there is a prospect of a no-deal Brexit.
"The key message from us is that for a 100 years we've put our faith in the Westminster parties and where has it got us," Plaid Cymru leader Adam Price told BBC Wales.
"We're at the bottom of every league table that you care to mention – child poverty is rising and life expectancy is falling.
"The way we can solve things is not by putting our faith in Jeremy Corbyn or Boris Johnson but by putting faith in ourselves and by sending the biggest number ever of Plaid MPs to Westminster".
Could there be a remain alliance?
In August, Plaid Cymru did not field a candidate in the Brecon and Radnorshire by-election after entering a pact with the Liberal Democrats and Green Party to avoid splitting the remain vote. The seat was won by Lib Dem Jane Dodds,
Despite reports they have reached a wider electoral pact for the election on 12 December, Plaid sources said the discussions within and between the parties continue.
The party won four seats in the 2017 election, including slender margins of 104 in Ceredigion and 92 in Arfon, while 16 of its 40 candidates lost their deposits after failing to secure 5% of the constituency votes.
But Plaid came second in May's European elections in Wales and beat Labour in a Wales-wide election for the first time.
Mr Price said: "These are unique times… Wherever possible we should look to maximise the number of pro-remain MPs".
"We haven't reached a final agreement yet", he said, emphasising Plaid was in consultation with local parties.
"This is the right thing to do where it's possible", he said.
"There are times in politics where you've got to put the public interest and the national interest before narrow party interest. It's painful and it doesn't come naturally, it's the kind of leadership I think people are looking for".
What is Plaid promising?
The party is campaigning for a "Welsh green jobs revolution", the creation of a Welsh justice system, which includes the transfer of policing powers to Cardiff and £50m to recruit 1,600 new police officers.
Other pledges announced ahead of the launch relate to issues that are the responsibility of the Welsh Government – social care, childcare and building affordable homes.
Asked whether the party was deliberately confusing matters, a Plaid Cymru source said: "Many of the issues are decided in Westminster or their funding allocated there.
"The sad fact of the matter, however, is the media still does not understand devolution, so we have to talk about the whole range of issues that matter to people's lives."
Mr Price said Plaid Cymru's ambition for Wales is "without limit" and aimed to win the party's most seats at an election.
"We have to take our country from where it's been bumping along at the bottom of every league table you can imagine," he said.
"There's nothing inevitable about poverty as a nation. It's the poverty of leadership we've had from the Westminster parties.
"We have to take the opportunity to change that at this election, to back ourselves, believe in ourselves and vote for our party."
Mr Price said Wales has not been taken seriously at Westminster, adding: "Compare Wales to Scotland and Northern Ireland and we're just invisible in the corridors of Whitehall."
Source link