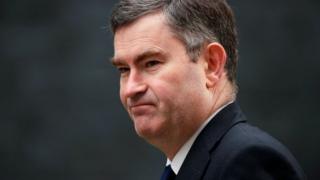 Former justice secretary David Gauke is to stand as an independent candidate in the general election.
Mr Gauke was among the MPs expelled from the Parliamentary Conservative Party by Boris Johnson after he voted against a no-deal Brexit.
It meant he could not stand as a Tory candidate in 12 December's election.
Speaking about his decision, Mr Gauke said a Conservative majority would be a "bad outcome for the country" and lead to a "very hard Brexit" being pursued.
Mr Gauke first confirmed his decision to stand in South West Hertfordshire – where he has been the MP since 2005 – at a political awards ceremony on Tuesday.
'Thoroughly irresponsible policy'
He later added on Twitter: "A Conservative majority at the next general election will pursue a very hard Brexit.
"Given the refusal to extend the implementation period (IP) beyond 2020 and the obvious lack of time to negotiate a free trade agreement before then, this means we will be on WTO (World Trade Organization) terms by January 2021.
"Leaving the IP on WTO terms would be devastating to many sectors of our economy. It's a thoroughly irresponsible policy.
"There are many excellent Conservative candidates who I wish well but a Conservative majority at the next election would be a bad outcome for the country."
Last week, Prime Minister Boris Johnson pledged not to extend the transition period that follow the UK's departure from the EU under the terms of his Brexit deal.
The period would see the UK stick to the EU rules on issues such as freedom of movement until December 2020.
Brexit Party leader Nigel Farage cited Mr Johnson's pledge as one of the reasons for his decision not to stand candidates in the 317 seats won by the Tories at the last general election, in 2017.
Mr Gauke told The Times: "I represent a form of liberal Conservatism, but the last few months have been increasingly uncomfortable…
"The principle issue of this general election is Brexit and I think that the Conservative Party has got it badly wrong.
"The easy thing to do would be to go quietly, but I feel that I have to make a stand and make the case that we are heading towards an outcome that we will deeply regret."
Earlier, Gagan Mohindra was chosen as the Conservative candidate for the constituency.
Mr Mohindra is a member of Essex County Council and Epping Forest District Council.
Some parties are yet to choose their candidates for South West Hertfordshire, but Tom Pashby has been selected for the Green Party and Sally Symington will represent the Liberal Democrats.
Source link