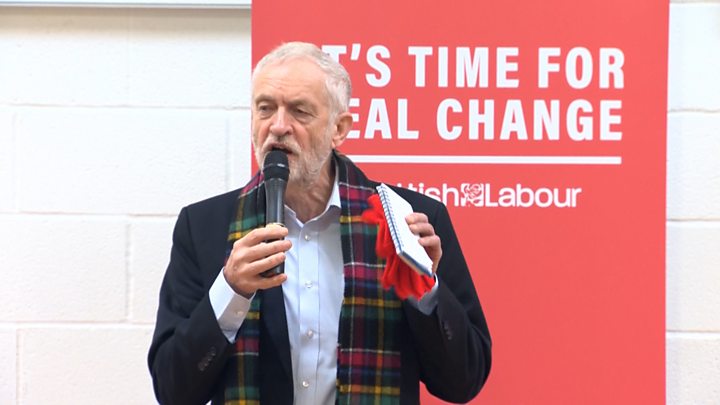 Labour leader Jeremy Corbyn has rowed back on comments that he would not back a Scottish independence referendum in the "first term" of a new government.
First Minister Nicola Sturgeon has said the SNP will not help Mr Corbyn into power unless he accepts the "principle" of a second referendum.
Mr Corbyn initially told reporters that this would not happen in the first five-year term of a Labour government.
He later clarified that it would not be a priority in the "early years".
‬Mr Corbyn was speaking in Glasgow at the beginning of a two-day campaign visit to Scotland, which will conclude with a rally in Edinburgh on Thursday.
Labour has previously said it would not back an independence referendum in 2020, but could change its position if the SNP wins the next Scottish Parliament election in 2021.
Mr Corbyn told journalists in Glasgow that there would be "no referendum in the first term of a Labour government, because I think we need to concentrate completely on investment in Scotland".
This appeared to go further than the party's previous comments on the prospect of indyref2 if it wins power.
But a few hours later, Mr Corbyn reverted back to Labour's previous position by saying that he would "not countenance an independence referendum in the early years of a Labour government because our priorities will be elsewhere."
Pressed further on whether he would grant a vote if the SNP won the Holyrood election, Mr Corbyn replied: "I'm not in favour of it at all because I think the priorities for Scotland are ending inequality, poverty and injustice across Scotland and independence will bring with it an economic problem for Scotland."
He also told BBC Scotland editor Brian Taylor that: "In the early years of a Labour government I want to concentrate totally on investment all across the UK, including the £70bn I want to invest in Scotland."
A Labour source said the party would absolutely rule out a poll in 2020, and repeated Mr Corbyn's claim that the party would win the 2021 Scottish election.
Prime Minister Boris Johnson has claimed that an "alliance" between Labour and the SNP if there is a hung parliament would "ruin 2020" with two referendums – one on independence and another on the EU.
Ms Sturgeon has insisted that Mr Corbyn should not "pick up the phone" to ask for the support of SNP MPs unless he is ready to accept the "principle" of a second independence referendum, as well as ending austerity and offering further powers to Holyrood.
Responding to Mr Corbyn's comments, she said: "‪I won't help him in power, to get into power, to stay in power if he doesn't accept the principle that whether there is a referendum in Scotland and what the timescale of that referendum should be should be determined by the people of Scotland."
She called it a "basic issue of democracy" but claimed it was "highly unlikely" Labour would give up a chance at being in government by rejecting an independence referendum.
Ms Sturgeon added: "The reason that I think Jeremy Corbyn keeps getting into a mess on this question is that he knows that it is not democratically acceptable or democratically sustainable to block the right of the Scottish people to choose their future."
Labour 'squeezed out' in independence debate
Analysis by Scotland editor Sarah Smith
When Jeremy Corbyn became Labour leader, the party hoped he'd make the SNP look like moderate centrists and he would win back left wing voters to the red corner. But that project has had only limited success.
Most of their voters have been lost to the SNP. And many of those who still vote Labour in Westminster elections are sympathetic to the idea of Scottish independence – or at least to having another referendum to allow Scotland to decide.
So you'd think the Labour Party's flirtation with the idea of allowing a second vote on independence would be welcome. But instead it appears to have thrown confusion into the debate.
While the SNP are ferociously in favour of independence, and the Tories (and Lib Dems) implacably opposed, Labour seem lost in the middle. Squeezed out of the biggest debate in Scotland.
As he arrived for the Glasgow campaign, Mr Corbyn was heckled by a Church of Scotland minister who branded him a "terrorist sympathiser".
As Mr Corbyn was telling reporters about a scarf given to him by a charity group, Richard Cameron – the minister at the local Scotstoun Parish Church – shouted that he thought the Labour leader would be wearing an "Islamic jihad scarf".
He added: "Who's going to be the first terrorist invited to the House of Commons when you're prime minister?"
A spokeswoman for the Church of Scotland rebuked Mr Cameron, saying: "Whilst we may occasionally robustly challenge policy issues with which we disagree, we always intend to do that in a way that is polite and measured and allows for reasoned debate."
The Conservatives and the Lib Dems have both positioned themselves in opposition to a second independence referendum.
Speaking at an electric vehicle manufacturer in the West Midlands, Boris Johnson said everyone in the UK faces "a historic choice" on 12 December.
He said: "At this election, the country can either move forwards with policies that will deliver years of growth and prosperity, or it can disappear into an intellectual cul-de-sac of far-left Corbynism.
"We can honour the wishes of the people, or else we can waste more time, at the cost of a billion pounds per month, and have two more referendums, one on Scotland and one on the EU – an expense of spirit and a waste of shame, more political self-obsession."
Scottish Liberal Democrat leader Willie Rennie said his party "will never support another independence referendum".
Speaking at a nursery in Dunfermline while promoting his party's childcare policy, he said: "It's really important we move on, we learn the lessons from Brexit rather than trying to repeat them with independence.
"Let's try to tackle things like childcare expansion, let's tackle the climate emergency, deal with mental health service problems that we've got in this country. We've had enough of the division and damage over the constitution."
Source link