It was a night when England celebrated their football history and threatened to run up a historic scoreline. As the goals flew in during a first-half embossed by Harry Kane's hat-trick, it felt necessary to check the team's previous 999 internationals for record victory margins.
The post-war highs were the 10-0 drubbings of Portugal (1947) and the United States (1964) and they looked in peril as Gareth Southgate's youthful team poured forward from all angles and went into half-time with a 5-0 lead. A couple of shocks would follow. One was that England could add only two more goals but the other spoke to an altogether different subject and was, to put it plainly, a scar on the evening.
When Southgate introduced Joe Gomez as a 70th-minute substitute, the manager wanted to give him a boost after what had been a difficult few days. Gomez had been attacked by Raheem Sterling at St George's Park on Monday, a bust-up that led to Scratch of the Day headlines and Sterling being stood down for selection. Yet while Sterling, who was seated in the stands, applauded Gomez on to the field there were loud boos from some in the 77,277 Wembley crowd. At first, it felt as though it was a trick of the imagination. Why boo Gomez? What had he done?
Then, came the moment of denial, of attempting to explain it away as something else because this, surely, was not happening. It was and it was impossible not to feel sympathy for Gomez. The flashpoint was brief, lasting no more than a few seconds, but it hit home with a force that was felt particularly sharply inside the England dressing room.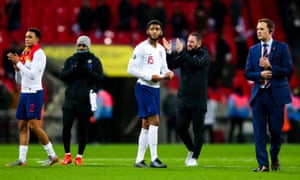 This was a blow to the collective morale, not only that of Gomez – a continuation of a saga which, unhappily, appears to have plenty of legs left in it. What a pity because everything else went so smoothly for an England team who have now confirmed their qualification for the Euro 2020 finals, which will feel like a home tournament because all three of their group ties will be staged at Wembley, along with the semi-finals and final.
It was difficult to read too much into the significance of this result, so woeful were Montenegro, but England can only beat what is put in front of them and Southgate was entitled to highlight the times when the national team would struggle to break down visitors who kept everybody behind the ball.
It was a different story here, with England able to carve apart Montenegro from the first whistle. Every player oozed comfort on the ball, from the full-backs – Trent Alexander-Arnold, who Southgate would try in midfield after Gomez's introduction at right-back, and Ben Chilwell – to those in positions further up the pitch.
England moved quickly and they moved the ball quickly. The pressed well and the highlights took in a debut for James Maddison as a second-half substitute and a first England goal for Tammy Abraham, who also entered after the interval.
The marking of the 1000th international consisted largely of a gaggle of former England players being introduced at half-time. David Seaman and Wayne Rooney were interviewed on the pitch, together with Jermain Defoe and Glen Johnson, as Paul Gascoigne, Sol Campbell and Tony Adams milled about. It felt pretty low key. What Southgate could enjoy was the cut and thrust, especially in the first half, of a lineup who were England's youngest since 1959.
It was apparent from the outset that England would win at a canter, with those in white simply too polished for their opponents. And that was before Montenegro's horrible defensive shortcomings were factored in.
There were times when England's superiority felt almost cruel and some of them followed the moments when Southgate's players stood over set pieces. Chilwell had three assists inside the opening 24 minutes, two of them when he whipped in first a free-kick and then a corner for Kane to score with headers. Dusan Lagator's attempts at marking the England captain defied the description.
Chilwell's first assist had come when he dropped a lovely ball over the Montenegro left-back, Risto Radunovic, for Alex Oxlade-Chamberlain to control and get the rout underway with a sweet low drive. It was the Liverpool midfielder's first England start since March 2018.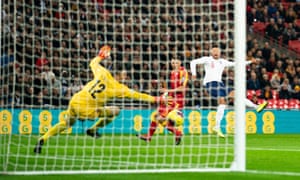 It was crazy to say but England could have had eight or nine by half-time. Kane was denied early on, he ought to have had a penalty after he saw a header repelled by Aleksandar Sofranac's hand – Mason Mount was kept out by the goalkeeper, Milan Mijatovic, on the rebound – and Marcus Rashford twice went close.
Rashford's pace was electric, too much for Montenegro to handle, and he scored the fourth after Harry Maguire's header was saved. Kane helped himself to a hat-trick when he was allowed to swivel inside the area following Alexander-Arnold's cross and find the far corner. Kane is now above Alan Shearer, Nat Lofthouse and Tom Finney in sixth place on England's all-time scoring list with 31.
Weirdly, given England's total first-half dominance, Montenegro had forced Jordan Pickford into a pair of fine saves – a reminder that Southgate's team can be rather too loose at the back. More in keeping with the Montenegro display was the frustration showed by Marko Vesovic, who butted Rashford in the 33rd minute and got away with a yellow card.
Abraham's goal, following Jadon Sancho's cross, was the seventh and it followed a comical own goal, shinned home by Sofranac after Mount's slightly scruffy shot. Mount had earlier had a goal disallowed for a fiendishly tight offside call. England face Kosovo in Pristina on Sunday, when Southgate will make changes, not least in recalling Sterling. The countdown to the finals has begun in earnest.
Source link