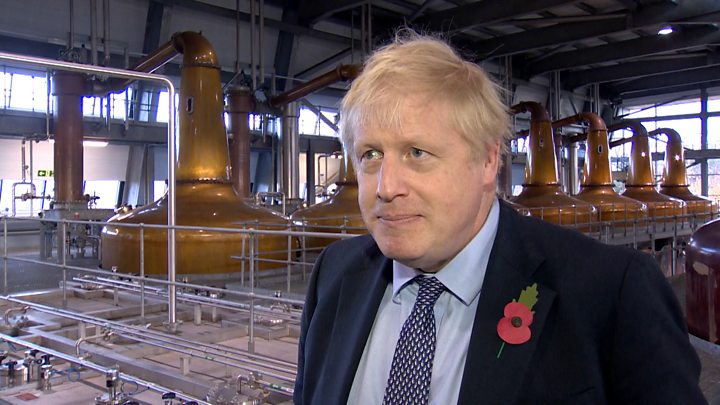 The prime minister has urged voters to use next month's general election to call a halt to Nicola Sturgeon's plans for a second independence referendum.
Boris Johnson was speaking as he visited Scotland on his first full day of campaigning ahead of the vote.
Ms Sturgeon has said she wants to hold indyref2 next year, claiming that "it is time" for independence.
Mr Johnson said only a vote for the Scottish Conservatives would stop the SNP's plans to "break up the UK".
Scottish Labour and the Liberal Democrats have also pledged to oppose a further referendum on independence.
Speaking as he visited a distillery near Elgin in Moray on Thursday afternoon, Mr Johnson said it was only the Scottish Conservatives who could "keep our fantastic United Kingdom together and prevent another referendum next year".
He added: "We are the party that is saying come on, let's get together as a whole UK, let's get Brexit done, get this thing over the line and then get on with bringing our great country together and unleashing the potential of the whole UK."
Mr Johnson said the other choice for prime minister was Jeremy Corbyn, who he claimed had "done a deal" with the SNP that would "get him into power in exchange for agreeing to another referendum even although the last one was meant to be once in a generation".
He also used his visit to pledge to review the amount of tax paid on a bottle of whisky, which the Conservatives said would allow it to "develop a system which provides better support for domestic drink producers".
Ahead of the prime minister's visit, Ms Sturgeon urged him to apologise to the Scottish people for the "chaos he and his party have subjected us to for years".
Ms Sturgeon said: "Whatever happens in this election, Brexit will not in any sense be done – even if a deal is ultimately passed.
"It is an issue which is set to dominate Westminster politics, one way or another, for many years to come. That is why it is vital Scotland chooses to escape Brexit by opting for a better future with independence."
Elsewhere, the leader of the Scottish Liberal Democrats said his party would win over "moderate" voters with its commitment to prevent both Brexit and a second independence referendum.
Willie Rennie said: "We need to stop Brexit, because every single option for it damages the economy and divides the country. We want to stop independence because that'll just repeat the mistakes of Brexit."
Scottish Labour leader Richard Leonard was also on the campaign trail as he highlighted his party's pledge to invest £70bn into Scotland's industries and public services during a visit to a manufacturing business in Midlothian.
Speaking ahead of the visit, he said the investment would "put Scotland's economy back on the map" and create well-paid, high-skilled jobs.
Mr Leonard said this would give workers "the security they need to get on in life".
Labour candidates
Meanwhile, a Labour candidate in Aberdeenshire has quit following a row over anti-semitism.
Kate Ramsden stood down in the Gordon constituency after the Jewish Chronicle highlighted a blog post in which they said she compared Israel to an abused child that becomes an abusive adult and claimed anti-semitism allegations against Jeremy Corbyn were "orchestrated by the wealthy establishment".
Scottish Labour's ruling body had decided to reconsider Ms Ramsden's candidacy.
A party source said they had taken "swift and robust" action.
Another Scottish Labour candidate, Frances Hoole, was earlier dropped in Edinburgh South West.
The party refused to endorse Ms Hoole after she posted an image on social media of her SNP rival, Joanna Cherry, being targeted with a bleach spray.
Frances Hoole has apologised.
Source link