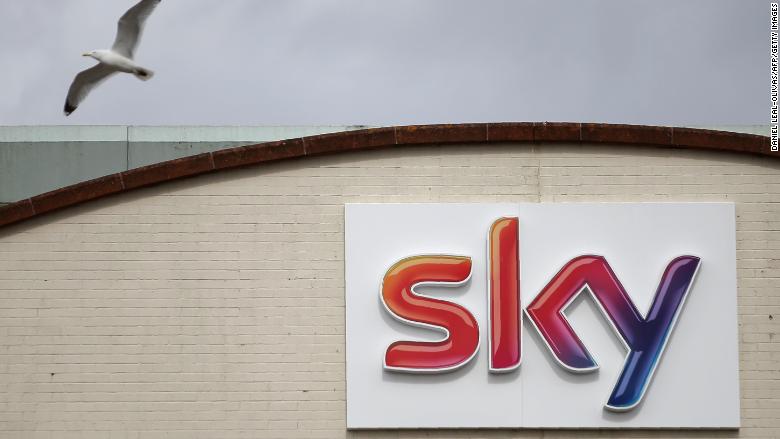 Comcast has raised the stakes in the bidding war for Sky.
Comcast made a new bid late Wednesday for the British broadcaster. Comcast's sweetened offer values Sky at £26 billion, or about $34 billion.
Earlier in the day, 21st Century Fox said it had a reached a deal to buy Sky that valued it at £24.5 billion, or about $32.5 billion. Fox already owns about 39% of Sky.
"Comcast has long admired Sky and believes it is an outstanding company and a great fit with Comcast," Comcast said in a statement.
Both Comcast (CCZ)and Fox see value in Sky as the media companies compete with the likes of Netflix and Amazon in Europe. It's a leader in pay TV in the United Kingdom and other markets including Germany and Italy. It also sells broadband and mobile phone services.
Sky has become a pawn in a much larger struggle between Comcast and Disney (DIS), which are locked in a bidding war for most of Fox, including its existing stake in Sky. Disney has agreed to take ownership of Sky if it succeeds in its effort to purchase 21st Century Fox.
The future of UK broadcaster Sky is on the line as Fox and Comcast firm up bids
Fox's pursuit of Sky has hit some regulatory snags in the UK. However on Thursday, the new UK Secretary for Digital, Media, Culture and Sport, Jeremy Wright, is expected to make the final decision on whether Fox will be allowed to take over the 61% of Sky it does not already own.
Regulators are concerned that Fox's ownership of Sky News would give Murdoch and his family too much influence over UK media. Wright's predecessor had previously indicated the deal could go through if Sky was ultimately sold to a third party, like Disney.
Disney would dominate the US box office if it buys Fox
Comcast had already received approval by both UK regulators and from the European Commission.
It's not clear yet whether Comcast will also increase its bid for 21st Century Fox to counter Disney's latest $71 billion offer.
CNNMoney (New York) First published July 11, 2018: 6:12 PM ET
Source link