For Derby, the circumstances were clear for all to see, and the advantage it gave Chorley's players was obvious as they created another piece of FA Cup history. But when all is said and done, only one thing matters: this Lancashire club from the sixth tier of English football are one of the last 32 teams left standing in the competition.
Never before in the 138-year history of Chorley had they reached round three of the cup. Now, the club sitting 125th on the league pyramid will go one step further at least, the first team from this level to reach the fourth round since Havant & Waterlooville in 2008. Derby's young players certainly did their best in trying circumstances, but nobody could deny this was the right result.
With the interim manager, Wayne Rooney, and his entire first-team squad already isolating at home due to a Covid-19 outbreak at the club, further positive tests leading up to kick-off meant the development coach, Pat Lyons, had to field a side without a minute of first-team experience. Those who started wore 1 to 11 on their shirts because none of them owned a first-team squad number.
They did not disgrace the club, though. Far from it. But this was men against boys, epitomised by Chorley's front two, Harry Cardwell and Connor Hall, who terrorised the three teenage Derby defenders all afternoon. The theme was similar across the field, with Chorley's seniority undoubtedly giving them a clear edge.
Their manager, Jamie Vermiglio, insisted in the week that despite Rooney and his first-team regulars being unavailable, Derby were still favourites. It was clear from the opening 10 minutes, in which time Chorley took the lead with Hall's third goal in three rounds, that was very much not the case as Derby's teenagers struggled to cope with the non-league side's presence.
"I played it down all week but with the greatest respect after five minutes you could see we were the stronger side," said Vermiglio, a boyhood Liverpool fan, who said a trip to Anfield is his dream next. "It would have been disappointing not to get through when we saw their line-up."
Vermiglio is right, but Chorley still had to play their part. They certainly did.
Derby's shout for a penalty after four minutes, when Kevin Friend pointed to the spot after Cameron Cresswell was challenged by Matt Urwin only to then change his mind, was the closest they came to troubling Chorley. Five minutes later, Hall nodded home after Derby failed to clear, and they rarely looked flustered thereafter.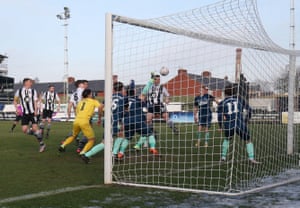 Yet Derby did not disgrace themselves. "We're proud of every single one of them," Lyons said. "We've given them a right go until the final 10 minutes. They were disappointed when I went in after, but I told them to get their heads up. This is a moment they'll never forget."
Nor will anyone associated with Chorley, who are one win away from becoming the 10th non-league side to reach the fifth round. They will be in the hat for the last 16 no matter what, with the draw for rounds four and five taking place at the same time.
For a side who were bottom of National League North with four straight defeats at the start of the season, this is a life-changing cup run.
"Chorley are on the map," said Vermiglio, who has been with the club as player, coach and now manager for more than a decade. "We'd made around £250,000 before today – goodness knows what it will be now. We could maybe get to £500,000: not only has it saved us, it's enabled us to grow."
That, despite all the uncertainty and changes Covid-19 has caused, is the one thing that thankfully has not changed about a cup run like Chorley's.
They dominated all afternoon, and should have finished Derby off long before Mike Calveley met an Elliot Newby cross with seven minutes remaining to put the tie beyond doubt.
Vermiglio had dreamed of rubbing shoulders with his fellow Liverpudlian Rooney when the draw was made. That was ultimately not to be – though he did get a call from the Derby manager before kick-off wishing him luck. Now, Vermiglio and Chorley can dare to dream all over again about what happens next.
Source link